Giant Cauliflower Cheese Puff
Jubes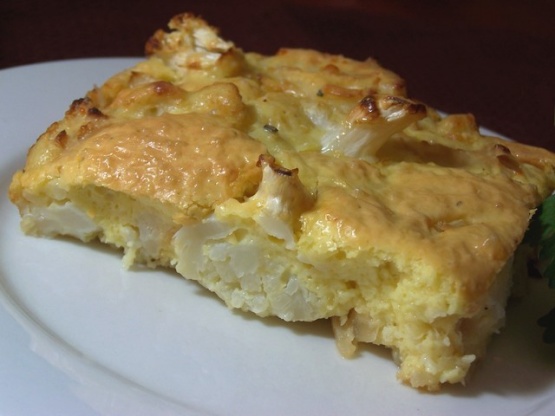 Recipe comes from Molly Katzen's Sunlight Cafe. Keep this recipe in mind when you need a noteworthy brunch dish but you are not in the mood to fuss. All this requires is some cooked cauliflower and onions, and an egg mixture that gets whipped in the blender. Then put into the oven. Leftovers can be stored up to 5 days in a tightly covered container in the refrigerator and and reheated in a 350 degree oven or a microwave. The salt amount I am UNSURE of after the CHANGEOVER it said 3/4 t. salt but when I researched in online it said 1/4 t. so have changed it to 1/4 t. You can also SUBSTITUTE broccoli for the cauliflower and sharp cheddar for the goat cheese.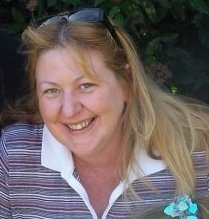 Top Review by Jubes
*Reviewed during ZWT5 France visit for the Zaar Chow Hounds Team* THanks WiGal- this recipe made a wonderful lunch today. I used a gluten-free flour blend...but otherwise stuck to the recipe. The onions caramelised while the cauliflower was cooking- it smelt so good..I could have just eaten a whole bowl full! This made a wonderful slice for lunch. Merci!! Photo also being posted....though it really doesn't do this slice justice
Preheat the oven to 350 degrees F.
Lightly spray a 9 by 13 inch pan with nonstick spray, then add the butter.
Place the pan in the preheated oven for a minute or so to melt the butter, then take it out and carefully tilt it in all directions to let the butter coat the bottom.
Set aside.
Place a 10 inch skillet over medium heat and wait a few minutes.
Add the olive oil, wait about 10 seconds, then swirl to coat the pan.
Add the onions, saute` for 5 minutes, then stir in the salt and the cauliflower.
Saute` over medium heat for 8 to 10 minutes, or until the cauliflower is just tender.
Transfer this mixture to the prepared pan.
While the cauliflower is cooking, combine the eggs, milk, flour, and cheese in a blender.
Whip into a smooth batter and pour it over the cauliflower mixture in the pan.
Bake in the center of the oven for 35 to 40 minutes, or until puffed and golden.
Serve hot or warm, cut into squares.