Leslie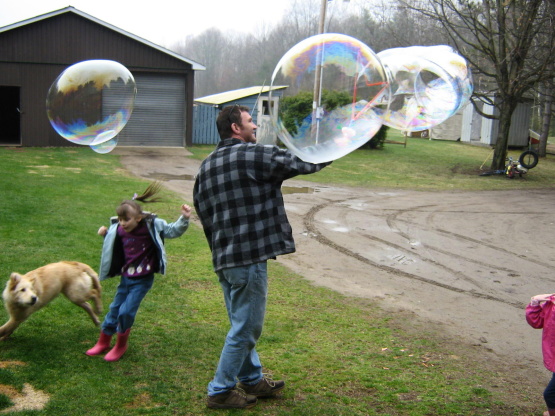 This recipe makes the best bubbles!

This is the recipe to use if you want to make gigantic longlasting bubbles. I've always added a bit of glycerin to our bubble solution, but the big bubbles would always pop. With this solution, we could even use our biggest fairy wands and wrap enormous bubble trails around us. Here's the best part...we got sidetracked playing in the sandbox for a while and when we returned to the bubble solution, it was even better! After an hour or two in the open, the bubbles we made were industrial strength, unpoppable creations. We could even stack them together and make bubble sculptures. Thank you for posting this!
1419.54

ml water

236.59

ml light corn syrup

473.18

ml Joy dishwashing soap (If using an ultra concentrated dishwashing liquid, use only 1 1/3 cups)
In a large bowl (at least 3 quarts) stir water and corn syrup until combined.
Add dishwashing liquid and stir very gently until well mixed.
(Try not to make any bubbles.) Dip (don't stir) bubble wands into bubble liquid and blow bubbles.