Gianduia Sandwich Cookies (Chocolate-Hazelnut)
GaylaJ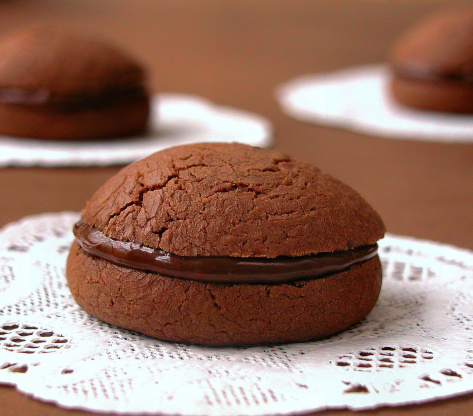 I was a bit skeptical of this 3-ingredient recipe, but curious enough to try it. This was certainly a case where curiosity paid off--these are wonderful little cookies! The recipe was published in Food & Wine's 6th edition of "Best of the Best-The best recipes from the 25 best cookbooks of the year". It was taken from Rozanne Gold's "Desserts 1-2-3". (Be sure to use the self-rising cake flour called for, not self-rising all-purpose flour.)

Top Review by Ms B.
My review is proof that these are an excellent cookie. Even with challenges, these cookies are still incredible. It is a long story, but please bare with me...I was in a hurry when I got home from work on Valentine's Day night. I had decided that instead of one simple appy for dinner with Hubby, I would make just a couple pieces of 3 different recipes. Crazy, I know, but I was craving one thing; he was craving another...you know how it goes. So, anyway, I quickly whip up these cookies for dessert, only to realize after the cookies are in the oven that I used regular flour instead of self-rising. The cookies didn't puff as they baked; they stayed round little balls. So, as I pulled them from the oven, I hit each one with the rounded handle end of my citrus reamer to make them crackle a bit and form an indention in the middle (like a thumbprint cookie). Then, I filled the indention with Nutella and dusted with powdered sugar. It worked. The cookies were saved, and we had a perfect little sweet spot to end our Valentine's dinner. I have submitted a photo of my "flop" for your viewing pleasure. LOL
Preheat oven to 375°F.
Mix 1/2 cup Nutella and the egg with an electric mixer until well combined. Slowly add 1 cup of flour until a wet dough is formed. Transfer the dough to a flour-dusted board.
Knead gently, adding a bit more flour if necessary; dough will be sticky. Roll dough into 18 balls, flouring your hands as needed to make rolling easier. Place on parchment-lined baking sheet, several inches apart.
Bake 12 minutes. Let cool 10 minutes. Split cookies in half horizontally using a sharp, serrated knife (see note below). Spread bottom with 1 teaspoon Nutella, replace top and press firmly. Let cool completely. Store in a tightly covered tin.
Note on flour: I didn't have self-rising cake flour, so I mixed 1 1/2 teaspoons baking powder and 1/2 teaspoon salt with regular cake flour before adding it.
Note on splitting the cookies: I had a problem with a couple of the cookie tops breaking a bit when I first started cutting them. I then tried it this way and had no more problems: turn the cookie on its side and carefully score the entire outside edge while turning it like a wheel, then gently cut the rest of the way through the middle.