mliss29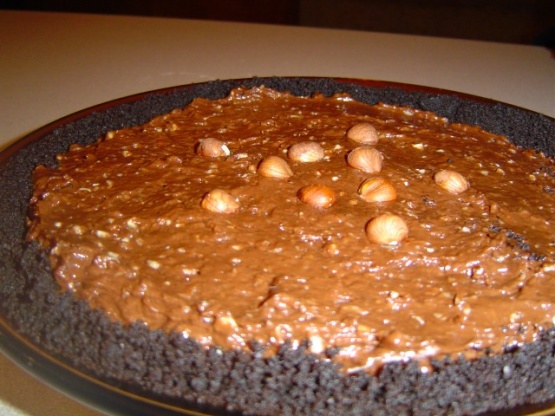 This pie recipe comes from the local paper and "Icebox Pies" by Lauren Chattman. It is a NO-BAKE pie that combines whipped cream and Nutella, the chocolate and hazelnut spread.

I made this because my dad loves the chocolate-hazelnut combination. I was a little shocked at the price of hazelnuts at my grocery store, but I forged ahead. I'm glad I did! Dad said it was the best pie of the party (although with nine to choose from, I'm not sure how many he actually tried!) I liked it too. I used 4 ounces of Cool Whip instead of the real whipped cream. If I make this again, I will try to find out how much whipped cream 1 1/2 cups of whipping cream makes, to more closely follow the recipe. Thank you for the tasty treat!
Preheat oven to 350 degrees. Process cookies and nuts in a food processor until finely ground. Add melted butter, sugar, salt and vanilla and pulse to moisten cookie mixture. Press the mixture across the bottom and up the sides of a 9 inch pie plate, packing it tightly with your fingertips. Bake until crisp, 6 to 8 minutes. Cool completely before filling.
Place the nuts in a food processor and chop finely. Set aside. With an electric mixer, whip the cream and vanilla until stiff peaks form. In a separate bowl, combine 1/4 of the whipped cream with the Nutella. Stir until smooth. Gently fold Nutella mixture back into the remaining whipped cream. Fold in the reserved hazelnuts. Scrape into prepared pie shell and smooth the top with spatula. Cover with plastic wrap and refrigerate until firm, about 6 hours.