Giada's Sausage, Peppers, and Onions
Cook4_6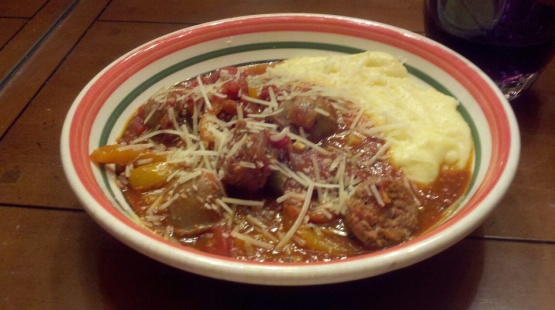 A recipe by Giada off Food Network. This recipe was awesome!!! I didn't have Marsala wine so I substituted some homemade stuff. I also substituted green peppers for red. Delicious!!!

I saw Giada make this on the Today show last month and wanted to compare it to my family recipe. The only difference being Marsala wine instead of dry red, chicken/turkey sausage, cutting the sausages and finishing cooking on top of the stove instead of the oven. My family also traditionally serves sausage and peppers over polenta...this compared very well with my family recipe and is probably less calories and heats the kitchen up less in the summertime!
Heat the oil in a heavy large skillet over medium heat. Add the sausages and cook until brown on both sides, about 7 to 10 minutes. Remove from the pan and drain.
Keeping the pan over medium heat, add the peppers, onions, salt, and pepper and cook until golden brown, about 5 minutes. Add the oregano, basil, and garlic and cook 2 more minutes.
Add the tomato paste and stir. Add the Marsala wine, tomatoes, and chili flakes, if using. Stir to combine, scraping the bottom of the pan with a wooden spoon to release all the browned bits. Bring to a simmer.
Cut the sausages into 4 to 6 pieces each, about 1-inch cubes. Add the sausage back to the pan and stir to combine. Cook until the sauce has thickened, about 20 minutes.
Serve in bowls. Or, if serving as a sandwich, split the rolls in half lengthwise. Hollow out the bread from the bottom side of each roll, being careful not to puncture the crust. Fill the bottom half of the roll with sausage mixture. Top and serve sandwiches immediately.