Giada's Ceci, Pistachio and Almond Mix
BarbryT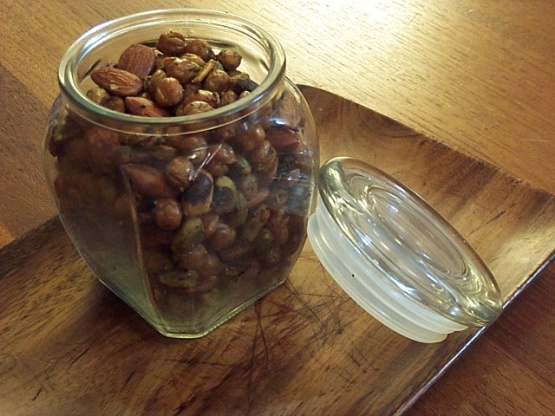 Sweet and spicy and crunchy and delicious. Great to have in your desk drawer for snacking when you "forget" to eat lunch. With vegan, vegetarian and omniverous friends, it served as a perfect hoiday gift. I must have made 3 quarts of it to give away...and that doesn't count the considerable amount I have consumed myself. May use one pre-made Roasted Ceci in place of the preparing the garbanzo beans as indicated below.

This is a recipe I'll be making often to provide at-work-snacks for days when I've been too disorganised or exhausted to bring something suitable to eat. I was able to skip the first five steps as I have been buying regularly a product that this recipe has now replaced - cooked garbanza bean snacks. Problem was that they were somewhat bland! Except for omitting the cayenne pepper (I did add generous grindings of black pepper) - zero tolerance of anything hot and spicy - and using a rosemary and sage blend from a mini grinder instead of fresh rosemary, I followed the recipe exactly. LOVED the end result, and I will be experimenting more as I make these in future with different nut combinations. Thank you so much for posting this recipe! Made for PRMR.
Preheat oven to 375degrees F.
Place garbanzo beans on a baking sheet.
Drizzle with 1 T olive oil and toss to coat thoroughly.
Spread the beans in a single layer.
Bake until dark golden--about 40 minutes.
In a small bowl, combine the seasoning ingredients (sugar, rosemary, thyme, sea salt and cayenne) with 3 T olive oil.
Remove the beans from the oven and combine with the pistachios and almonds.
Pour the seasoning mixture over the beans and nuts and toss to coat thoroughly.
Return mixture to the baking sheet and spread into a single layer. Bake for 10 to 15 more minutes.
Let cool and serve (or store).