Giada De Laurentiis's Garlic and Citrus Chicken
diner524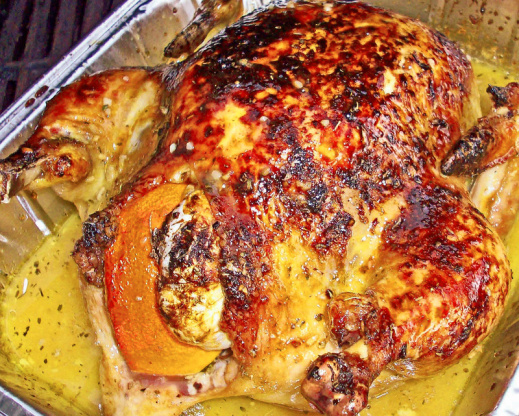 I watched Giada make this on a recent episode of "Everyday Italian" on the Food Network. It is SO GOOD and pretty easy to prepare. She made the Penne with Spinach Sauce to go with it.

Wow, this was really great! Like another reviewer, after I started basting it, I had to cover with foil to prevent burning and kept adding chicken broth. Next time, I may reduce the temp to 325 and just roast longer, put some broth in the pan at the beginning and will wait to begin glazing. I will probably add more garlic too, due to personal taste. With Giada's recipes I always double the sauce. At the end, I put some flour and about 1/4 a cup of chicken broth into a jar, shake it up, then add to thicken the sauce. I think this would be great with bone-in, skin-on chicken breasts, marinating in the sauce for 3 or 4 hours. Even a turkey sounds good with this recipe! Thanks for posting, Kerry.
Position the rack in the center of the oven and preheat to 400 degrees F.
Pat the chicken dry and sprinkle the cavity with salt and pepper. Stuff the cavity with the orange, lemon, and garlic halves. Tie the chicken legs together with kitchen string to help hold its shape. Sprinkle the chicken with salt and pepper.
Place a rack in a large roasting pan. Place the chicken, breast side up, on the rack in the pan. Roast the chicken for 1 hour, basting occasionally and adding some chicken broth to the pan, if necessary, to prevent the pan drippings from burning. Whisk the orange juice, lemon juice, oil, oregano, and chopped garlic in a medium bowl to blend. Brush some of the juice mixture over the chicken, after it has baked 1 hour. Continue roasting the chicken until an instant-read meat thermometer inserted into the innermost part of the thigh registers 170 degrees F, basting occasionally with the juice mixture and adding broth to the pan, about 45 minutes longer. Transfer the chicken to a platter. Tent with foil while making the sauce (do not clean the pan).
Place the same roasting pan over medium-low heat. Whisk in any remaining broth and simmer until the sauce is reduced to 1 cup, stirring often, about 3 minutes. Strain into a 2-cup glass measuring cup and discard the solids. Spoon the fat from the top of the sauce. Serve the chicken with the pan sauce.