Ghormeh Sabzi - Persian Green Stew
Jaiyla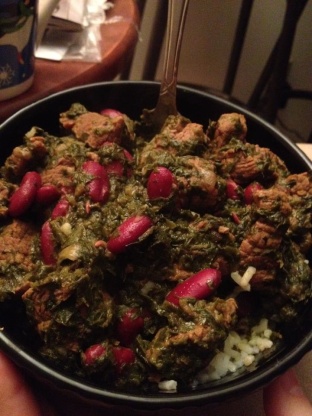 An exquisite Iranian dish.

The vegetable mix for this dish can be purchased in Iranian groceries here. I haven't made it for years and couldn't remember the recipe when I found the "lost" bag with the dried veggies in the depth of my pantry. This was exactly what I was looking for - love it :D Thanks for posting!
Made for Healthy Hearts Find The Tags / Diabetic Forum Feb. 2012.
Trim meat and cut into 3/4" cubes.
Fry onion over medium heat in half of the oil until golden.
Add turmeric and fry for 2 more minutes.
Increase heat, add meat cubes and stir over high heat until meat changes color and begins to turn brown.
Reduce heat.
Add water, drained kidney beans, salt and pepper to taste.
Cover and simmer gently for about an hour or until meat is tender.
Fry potatoes over high heat in the remaining oil until lightly browned.
Add to sauce, leaving oil in the pan.
Cover and simmer for 10 minutes.
Add prepared vegetables to frying pan and fry over medium heat until wilted.
Add to sauce, then add dried limes (or lime juice), cover and simmer for an additional 10-15 minutes.
Adjust seasoning and serve with white rice.