Ghana Jollof Rice (With Chicken and Ham. Full Meal!)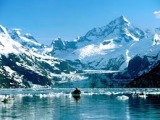 In Jollof, the rice is cooked along with other ingredients, rather than as a separate starch. Jollof contains just about everything you need for a one-dish meal. I think this recipe is so flavorful and delicious. I find myself going back for seconds of the rice with veggies. Don't skip the cabbage (unless your really hate cabbage) because it really adds flavor to the rice. Yum!! I omit the ham. Recipe from chef Angela Shelf Medearis.
Directions
Pour the water into a large pot. Add the chicken, tomatoes, salt and pepper. Cover and bring to a boil. Reduce the heat and simmer for 30 minutes.
Stir in the ham, rice, onion, cabbage, green beans, cinnamon and cayenne pepper.
Bring to a boil, then reduce heat to low. Cover and simmer until the chicken is fork-tender and the rice is cooked - about 25 to 30 minutes. *You can choose to simmer it longer if you want to cook out more of the liquid. It's up to you. Enjoy!
Reviews
Most Helpful
I made this a while back, just because I was curious. We all liked it and so we are making it again. :)
I like this even more than I thought I would! Everybody loved it! It made a potful but there were no leftovers. I use a 3lb pack of whole chicken legs which = 4 pieces/1 per person. I used 1 ham slice which I'm sure was more than 3/4c. Next time I would increase the amount of cabbage. I am also going to just double the recipe! My kids were looking for leftovers for breakfast. :( The cayenne adds just enough heat; the cinnamon adds a bit of sweetness. Fabulous recipe. Besides being very easy, it doesn't take long to cook! Made for 1/2012 Aussie Swap.