MrsHepp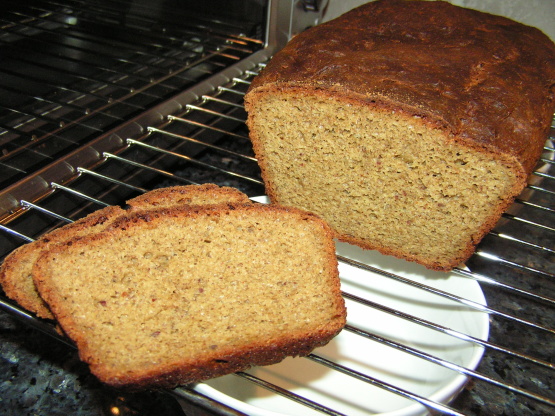 A little time consuming and laborous, but healthy and tasty

As stated by the other reviewers...this tastes like "real" bread!!! This is a dream come true for the gluten-free real food community. When I found out I was gluten intolerant, I searched and searched for a GF bread recipe that incorporated the traditional preparation methods of soaking the grains beforehand to enhance digestion and nutrient absorption. This bread turned out perfect! It didn't fall, and wasn't gummy. I followed the recipe exactly except for substituting 1/2 cup of almond flour for the ground nuts. Oh, and I used honey to proof. Next time I may try sorghum, as one other reviewer did. Mmm...
In a medium bowl, mix the ground teff, oats and brown rice well. In a measuring cup mix the water and cider vinegar then mix well with the dry ingredients. Cover and leave on the counter at room temperature for 24 hours.
In your mixer bowl add the ground nuts, starch or starches, ground seeds, ground flax, chia, guar gum, baking powder, baking soda and salt. Mix well.
In a medium bowl mix the eggs, oil and honey then add to dry ingredients but don't mix yet.
In a measuring cup bloom your yeast with the 115 degree water and the teaspoon of sugar until it's foamy, about 10 minutes.
Add the soaked grains and the bloomed yeast to the mixer and mix all ingredients until incorporated, scrape down then mix on medium for 4 minutes.
Divide evenly and place in two greased and floured 9 by 5 inch bread pans and let rise in a warm place (I use my oven with the light on) until dough clears the top of the pans, about 45 minutes then bake in a 350 preheated degree oven for about an hour until the internal temperature is about 210.