twissis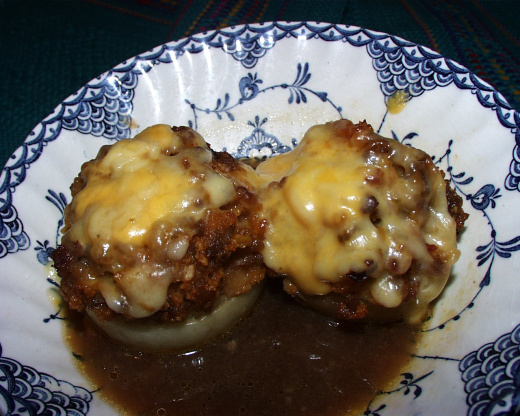 Tagging this recipe was not a random choice. DH & I have a friend (freq dinner guest & very picky eater) who happens to love onions, so I am always looking for recipes he might enjoy. This was a taste test tag in advance of a birthday dinner for him next mo & my bet is he will give it 2 thumbs up. The prep humbled me a bit, but I suspect mostly because I was inept. I destroyed the 1st onion trying to scoop out the onion pulp to create the shell & compromised by halving the onions & mounding the stuffing in the halves. This method eliminated the parboiling step out of necessity, so they were entirely oven-baked. I have to be careful topping dishes w/cheese in my convection oven, so I added it (a cheddar & mozzarella mix I subbed) w/10 min left of the cooking time. Despite my chgs, DH & I loved the very flavourful outcome. Pls see my rating system - a very worthy 4*. Thx for sharing this recipe w/us.
Cut tops off the onions and scoop out the insides, leaving a 1/4-inch-thick shell.
Cook onion shells 5 minutes in boiling salted water; invert on a plate to drain.
Chop the insides of the onion finely and saute in 2 Tbs of the butter over very low heat 10 minutes.
Mix the sauteed onions with the pork through fresh ground pepper and use mixture to stuff the onions.
Top each onion with 1 Tbs grated cheese and dot with 1 tsp of butter.
Place onions in a shallow baking dish and add broth.
Bake at 400F 30 minutes, basting occasionally with the broth.