GaylaJ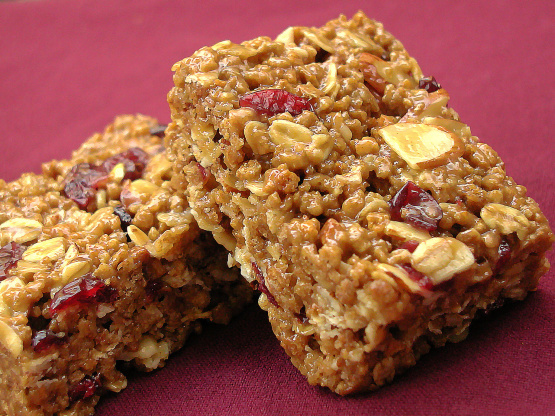 I found these at the Mr. Food site. My friends says they really are called Get Up and Go Bars because with all the fiber, you really will have to get up and run! Especially if you have one of these bars with your first morning cup of coffee!

So the first thing that made me happy was everything was already in my pantry. I didn't have the full 4 cups for cereal so I used lots of Cheerios to cover it. I also had a little handful of chocolate chips when the mixture was still warm which just made it that much better(= The next best thing about this recipe was I was able to make it all in a glass measuring cup and I just measured the peanut butter, corn syrup and sugar and popped it in the microwave for like 45-60 seconds. Overall, fantastic recipe and I will be making it again!
Line a 9" x 13" baking dish with foil and coat the foil with nonstick cooking spray.
(I just use parchment paper, ungreased).
In a large saucepan, combine the sugar, corn syrup, and peanut butter over medium-high heat.
Bring to a boil and cook for 1 minute, stirring constantly.
Add the remaining ingredients; mix well then spread evenly into the prepared pan.
Let cool then cut into bars and serve, or cover until ready to serve.