Get Sassy Seafood Skewers With Jerk and All the Perks!
Um Safia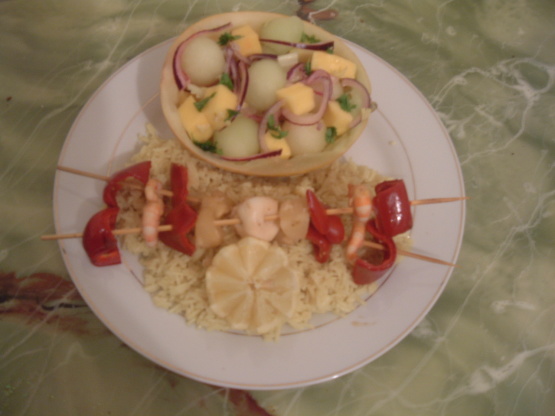 Look at this - Shrimps (Prawns), Scallops, Pineapple and Red (Bell)Peppers marinated in Authentic Jamaican Jerk Marinade by de Roché, skewered and then grilled before being served in Papaya Boats.....we have NOT finished yet, ALSO served with a salad of Melon Balls, Fennel, Mango, Red Onion, and Mint!! How can you resist this SIZZLING and SASSY offering from the girls with more Sass & more Dash than they know what to do with?! Hot and spicy - yet cool and fresh - a TOTALLY tropical experience! Here is the Who's Who: Karen/FT: I am the Jerk of the team - Oops, I mean I love it hot, so I am Jamaican Jerk Marinade: Peggy/A Good Thing: She has the balls - she loves Melon Balls: Kate does GREAT things with her Scallops: Melissa hankers after Sassy Shrimp(Prawns):Um Safia/Rezika loves her Mint to bits: Dawn always has to have her daily chunks - of Pineapple & Fennel:Mama Jennie says don't forget the Onion - preferably Red: Dicentra loves to play in Papaya Boats: cajun chef in Louisiana is red hot, but does not mind a red Pepper(bell) now and then, and Star must have a mango a day - helps her work, rest and play! Steve Martin stops by often to eat our JERK skewers - are you a big enough Jerk to try these sassy seafood skewers??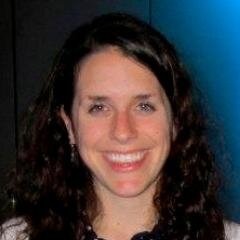 These were very easy to prepare and very yummy! I served the skewers over basmati rice. Howvever, I did feel that marinating overnight might have been a bit too long. An hour or two would probably be enough. The papaya boats were so cute though, and I loved the mix of fruit and veggies in this! Thanks to the Sassy Saucepan Clan!
Salsa Salad

1

fresh melon, balls

2

red onions, peeled, halved and cut into thin slices

4

sprigs fresh mint leaves, finely chopped

1

mango, peeled and cut into chunks

1

fennel bulb, trimmed and cut into chunks

Marinade

jamaican Caribbean jerk marinade

Skewers

16

tiger shrimp, peeled and tail left on

1

fresh pineapple, peeled, cored and cut into chunks

3 -4

red peppers, seeded, trimmed and cut into chunks

Boat

1

papaya, cut into quarters
Place the prawns, scallops, pineapple chunks and red pepper into the marindae and leave in the fridge over night.
Soak 8 wooden skewers in water, or use metal skewers if available.
One hour before grilling and serving the skewers, make the salad - Place the melon balls into a large serving bowl and add the red onion, mint, mango chunks and fennel chunks - mix gently and leave in the fridge until needed.
Take 2 prawns, 1 (2) scallop/s, 4 chunks of red pepper and 2 chunks of pineapple, and skewer them in this order: red pepper, prawn, red pepper, pineapple, scallop, pineapple, red pepper, prawn and red pepper.
Brush with extra jerk marinade and grill for 3-5 minutes over hot coals turning all the time.
Serve the skewers on top the papaya boat with the minted fruit & vegetable salad salsa; yellow rice would be ideal accompaniment.