Get My Day Started Granola
loof751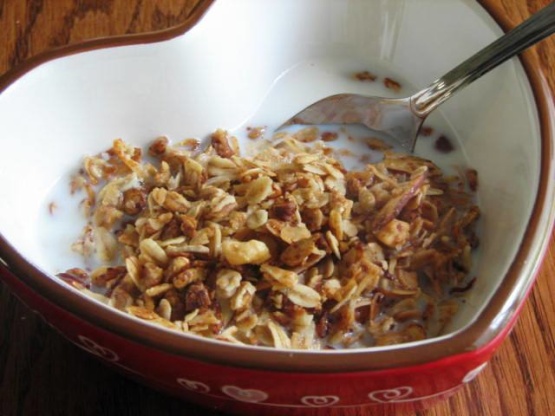 This granola is what gets my family started nearly every day. I experimented with different ingredients until I hit upon the combination we like best. I've tried using different amounts of oil and honey to make it as healthy as possible and the amounts shown here are the lowest I've been able to go without sacrificing flavor. If you want to omit a nut for lower fat content, omit walnuts since they are the highest in fat. I mix 1/3 cup of this with a fat free vanilla yogurt and my metabolically blessed husband devours a big bowl of this with just milk. This granola will clump somewhat if that's how you let it cool, but if you want clumpier granola you'll need to increase the wet ingredients.

Made for PAC spring 2008. Good granola that is easy to prepare. I did have to do a few things differently. I used slow oats, that I soaked for 12 hours then rinsed and drained well. I soaked the oats to make them more digestible (as I do with all grains, seeds, and nuts). I used pumpkins seeds, and slivered almonds. I did have to cook for a lot longer, because of the soaking. I cooked it for 1 hour at 325, mixing every 20 minutes. Then I reduced the heat to 170 and let it cook for another 2 hours without touching it. It came out lovely and crunchy with a nice sweet taste. It is a lot quicker than my soaked granola recipe, the end result is different but still good. I will use this recipe when I don't have time to make my other one (which takes 2 1/2 days). Thanks for posting.
Stir together oats, nuts, coconut, seeds, banana chips, and wheat germ in a large bowl.
In a separate small bowl, mix the raisins and cranberries and set aside.
Combine oil and honey in a microwaveable bowl and microwave on high for about 2 and a half minutes.
Immediately pour over oats mixture, stirring as you go. (Oil and honey won't be completely blended but that's OK.).
Stir to coat dry ingredients.
Divide mixture and spread on two ungreased cookie sheets.
Bake one pan at a time for 20 minutes in a preheated 325 degree oven on the center rack.
Immediately after removing from oven, stir half of the raisin mixture into each pan. Be sure to release the granola from the cookie sheet or it will stick as it cools.
Let cool, then store in an airtight container.
I store this at room temperature in two big canisters. It's always gone within a couple of weeks and I've never had it become stale. I'm not sure about the number of servings, but just gave it my best guess.