Get Gorgeous Grapefruit Granita
CandyTX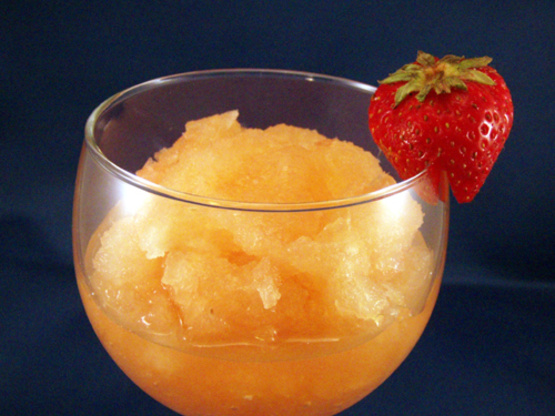 Grapfruit is now heralded as a waist whittling miracle food. Why? Scientists have discovered it's rich in naringin, which blocks the absorption of dietary carbs and prevents up to 30% of excess calories from being stored in fat cells. They have found adding 1/2 a grapefruit to 3 meals daily delivered a 10 pound loss in 12 weeks! Bring on the grapefruit! Adapted from First magazine.

Delicious IF you like grapefruit and I DO! This was so easy and quick to make. After letting the sugar syrup cool I stirred in about 1 1/2 teaspoons rosewater. It helped to place the container all the way to the back of the freezer for optimum freezing. Garnished with lemon verbena leaf and there you have it! PS I used half raw sugar and half unbleached white sugar. Reviewed for Veg Tag/June.
Boil the 3 cups water and 1 1/2 cups sugar together. Reduce heat; cook 7 minutes. Cool. Over bowl, segment 3 grapefruits. Puree fruit and juice; stir in syrup.
Freeze in a pan till frozen, about 2 hours. Pulse in a food processor and serve. Enjoy!