Ger's Awesome Thin Buttermilk Pancakes
These are the best buttermilk pancakes ever...Wonderful THIN pancakes, served plain with icing sugar or if you want a real treat add: raspberries, blueberries, bananas and/or chocolate chips. If you would like fluffy pancakes add an extra 1/2 cup of flour.
Directions
Put eggs in large bowl and beat lightly.
Add next 4 ingredients into egg mixture.
Melt butter on skillet or griddle, add to pancake mixture, mix lightly.
(DO NOT OVER MIX).
Heat griddle, butter lightly if necessary and add batter to make small circles. Next add a small amount of fruit or chocolate chips, when batter is partly cooked, turn.
Serve with butter and icing sugar or maple syrup.
For a real taste treat drizzle caramel sauce over the buttermilk banana pancakes, enjoy.
Most Helpful
We really enjoyed these thin, almost crepe-like pancakes. I did use part buttermilk and part regular milk, which might have made mine extra thin. But they were great with lots of maple syrup and then rolled up! I agree that these are best poured large into the pan, so you get a nice big pancake. Anything smaller and you are left with abstract shapes (such as the continental U.S., one of my earlier attempts!) Great pancake. Thank you!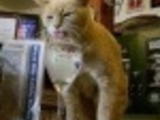 These are delicious! Nice and light (and thin). Almost like a crepe, with the added "bite" of buttermilk. Made as written and the batter was just right for thin cakes. Served with real Canadian maple syrup.

Very nice pancake. After reading the other reviews, I decided to add 1/2 cup more flour because the batter was very very thin and added 1/2 teaspoon vanilla. After mixing in the extra flour in, I let the batter sit for about 10 minutes before making the pancakes and tht helped the batter thicken up some. All in all a nice buttermilk pancake. Thanks BK