Gerry's Chili Better Than the Best Chili
Gerry H.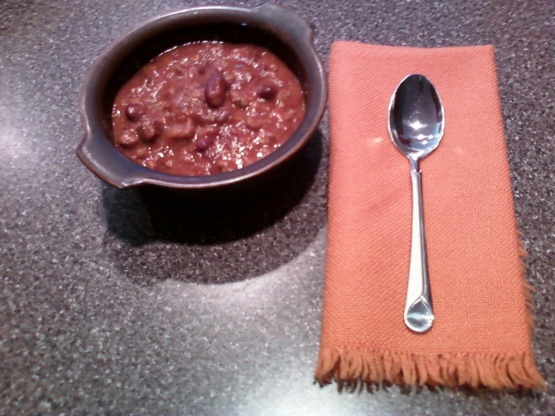 This is a chili recipe I put together from a bunch of recipes to get the taste I wanted. This is a flavorful chili. Can be served with sour cream or cheese topping for a great taste. We made this for a church supper a while back and had people coming back for seconds and commenting on how good the chili was. Enjoy!!!

Quick, easy, and tastes awesome! The recipe is great as-is, but also lends itself well to modification (see some of the other reviews for examples). Keeping this one on file for later!
Brown hamburger & onions. Drain. Add tomatoes,tomato sauce, beans,and dry ingredients. Mix together.
Make sure all the dry ingredients are blended together before adding to the liquid. Simmer for at least one hour. Remove bay leaf. Much better the next day. Freezes very well.
1 (15 ounce) can tomato sauce plus 1/2 teaspoon Italian seasoning can be substituted for the Italian tomato sauce.