Gerri's Sticky Stout Fruitcake
Tisme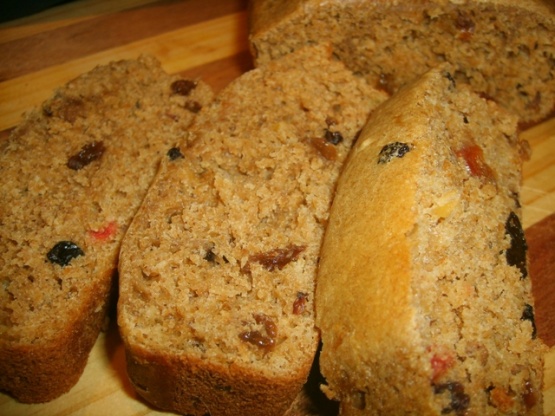 A wonderfully easy, low-fat, moist fruitcake. High in fibre. Recipe given to me by a gym instructor about 15 years ago. Make 2 cakes (1 small & 1 larger). Needs overnight soaking. Freezes well.

Top Review by Tisme
Very nice, moist, light fruit cake. And... WOW low fat also!!! I made this for DH to take to work, and he loved it. I am not going to get a chance to freeze this cake as the kids love it also....sssshhh they dont know its good for them!!!! I made exactly as per recipe, and it turned out fantastic!! Such an easy recipe to make. Will be making this again often...Thanks Mischka, great recipe.
Mix together cereal, sugar, fruit and stout. Leave to soak overnight.
Next day: Preheat oven to moderate (180 deg Cel). Grease well (important) 1 round and 1 log tin.
Stir spices, egg and SR flour into soaked fruit. Mix until combined.
Put mixture into tins and bake for 30-40 minutes. Top may need covering with foil towards the end to protect fruit. Cool in tin.
To freeze, double wrap in plastic wrap.