German Warm Cabbage Salad (Krautsalat)
teresas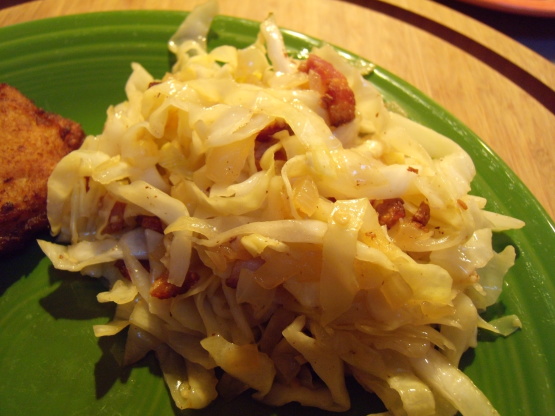 German deli. Posted by request. Garlic is optional. Some German Krautsalat recipes do not have garlic at all.

This is so delicious. I also add a little extra vinegar for more kick, and sometimes will let the cabbage sit in the pot a little longer to wilt a bit more, but if you make this and put it in the fridge, the longer it sits the more wilted it gets, but still with crunch. Just absolutely delicious, as soon as my first batch was gone I had to make another one. Thank you for this!
Cut the bacon into tiny bits.
Fry it in a big deep frying pan and fish out all the bits after they are crisp.
Cut up the onion and garlic and fry them in the bacon fat.
When they are brown, pour in the vinegar.
Bring it just up to a simmer, add all the cabbage and bacon, toss it as you would a salad, and serve it.
The cabbage doesn't cook, but it wilts a little under the hot vinegar.