Diana 2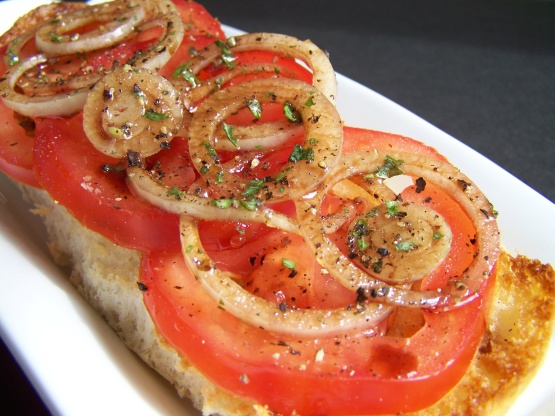 Got this off the web but I make it like this sometimes myself

Thank you for printing this - I didn't realize it was a German recipe -that makes sense as my Grandmother was from Berlin. She used to cater parties for all of the rich people's summer homes in Pine Lake, Wisconsin and this was one of the most requested dishes. It does have to "sit" and soak together to taste best. I normally use a decent amount of salt and pepper and just a dash of the oil . I have found green onions diced are best on this and sometimes I add diced fresh basil. My secret ingrediant (and Grandmas!) is fresh lemon juice dashed all over instead of the vinegar .
Slice tomatoes and onions.
Add olive oil and vinegar to make a sauce.
Add salt and pepper.
Put in fridge until ready to serve.
This recipe is from a very well known real chef.