German Style Pork Chops With Mushrooms
Bayhill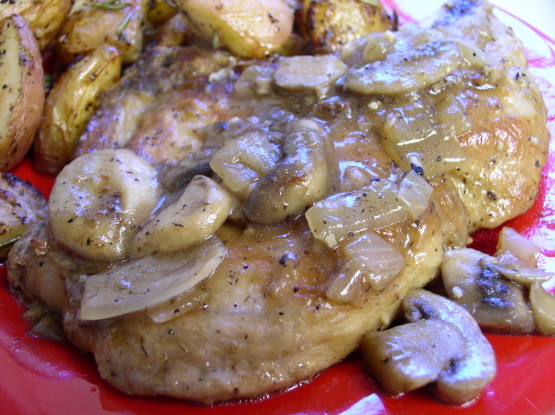 A once-loved recipe that I had forgotten about but recently rediscovered. Super with buttered egg noodles or mashed potatoes!

Great comfort dish. I used a boneless sirloin roast and sliced it into 1 inch chops. I have never had meat turn out this tender! I could cut it with a fork. I used Guinness for the beer but ended up doubling the amount of broth because it didn't look like enough sauce for me. Glad I did. Very good dinner, will make again.
Coarsely chop onion.
In a plastic bag, combine the flour, 1/2 tsp thyme and salt and pepper. Shake to mix.
Add the pork chops and shake lightly to coat. Remove the chops and reserve the excess flour.
In a large skillet warm oil over med-high and add chops. Cook until well browned(about 7 minutes per side). Remove chops and set aside to a plate (cover loosely with foil to keep warm).
In same skillet, cook the onion, mushrooms and garlic over med-high heat, stirring for about a minute. Add 1 tbsp of reserved flour and cook until flour is no longer visible (about a minute).
Stir in beer, chicken broth and remaining 1 tsp of thyme and bring to a boil. Reduce heat to low, add the pork chops then cover and simmer for 8 minutes, turning chops halfway through.
Uncover skillet and cook for another 2 minutes or until the sauce has thickened slightly and the chops are cooked through.
Serve with noodles or potatoes.