German Spritz With Variations
mianbao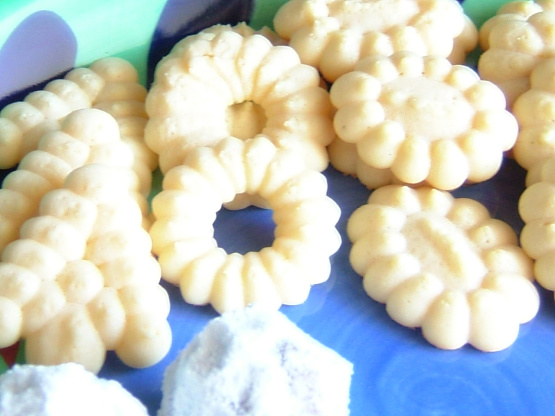 The cream cheese keeps these cookies soft. Variations are Chocolate Spritz, Orange Spritz, and Chocolate orange Spritz.

This recipe makes good cookies BUT the cookies press is very important. If you have a badly designed one, like I do, you will probably feel quite frustrated before the batch is complete. Even if you only make a half batch, like me. The dough is easy to mix up, though pretty sticky. A wide mouth cookie press would be easy to load and save on frustration. (Mine is less than 2 inches diameter inside.) Thank you for sharing this recipe with us. I will use it again after I buy a new cookie press.
Cream butter, cream cheese and sugar in large bowl. Beat in eggs 1 at a time. Add vanilla and salt. Beat.
Add flour. Work into batter. Fill cookie press and press your choice of design onto ungreased cookie sheet. Decorate. Bake in 400 f. oven for 10 to 12 minutes until set and edges are showing a hint of brown. Makes 6 to 7 dozen.
CHOCOLATE SPRITZ: Exchange 6 tablespoons of flour with 6 tablespoons cocoa.
ORANGE SPRITZ: Add 2 teaspoons finely grated orange rind and 1/2 teaspoons orange flavoring.
CHOCOLATE ORANGE SPRITZ: Exchange 6 Tablespoons flour with an equal amount of cocoa. Add 2 teaspoons orange flavoring.
Company's Coming for Christmas.