ImPat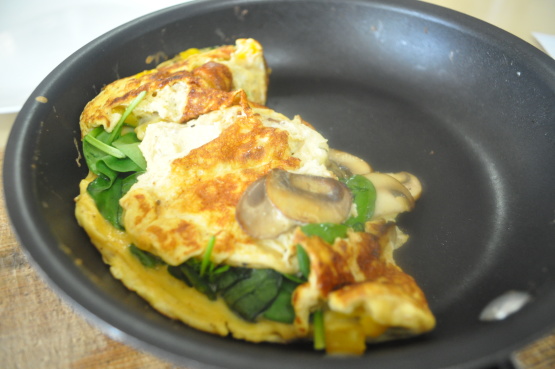 From a German website; it is a veggie omelet.

This was delicious! I would have given it 5 stars but for the direction...I cooked the omelet in a 10 inch pan...not sure if it was the correct size...but seemed to work ok...I also chopped up my spinach...you really need to like nutmeg because it is a dominate flavor...if you don't really care for it I would omit it or use less of it...now I need to find out from my German MIL if she has ever had a spinach omelet...Thanks for posting...:)
Mix eggs with salt, pepper, nutmeg, and milk.
Melt butter.
Cook in smaller saute pan with lid cause they want it to be tall.
Add bell peppers; saute.
Add mushrooms saute.
Add eggs; stir once.
Add spinach.
Cover with lid ajar.
Cook on low.
Cook until semi solid (you dont have to do this step).
Serve like pizza with rye toast.