German Rotkohl - Spiced Red Cabbage With Apples and Wine
BecR2400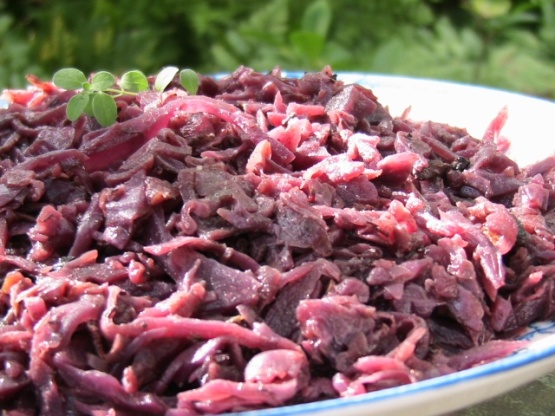 Our family favorite Rotkohl dish, in the traditional German style (with a few flourishes)! Delicious!! Red cabbage, apples, aromatic spices and wine---this dish is sure to please! Wonderful served with holiday roast turkey, beef, or ham dishes -or- with bratwurst, weisswurst or wienerwurst sausages. Tip: For a delicious & traditional European feast serve the Rotkohl with German Meatballs Konigsberger Klopse (German Meatballs in Creamy Caper Sauce), Beef Rouladen Mom's Traditional German Beef Rouladen (Rinderrouladen), Bavarian Sauerbraten Traditional Bavarian Beef Sauerbraten, Wiener Schnitzel Wiener Schnitzel, or Swedish Meatballs, along with boiled new potatoes or buttered spaetzle noodles sprinkled with fresh snipped parsley. A great make-ahead dish that freezes & reheats beautifully, and actually tastes best after flavors have had a chance to marry (a day or two after cooking). I like to make two batches at a time, one for now and one to freeze for future meals. I hope you enjoy as much as we do. As my mother made it, with adaptations from the book "Aquavit and the New Scandinavian Cuisine" by James Beard Award-Winning Chef Marcus Samuelsson.

Top Review by sulla1
This is our new, favorite Rotkohl recipe! I pared the recipe down to 4 servings as I was only serving my husband and myself. This did not compromise the quality of this flavorful dish. Also had to adjust a few ingredients to what I had on hand, such as dry marjoram instead of fresh, bottled minced ginger instead of fresh, cider vinegar instead of red wine vinegar (had just ran out!). Even with these slight changes, we were thrilled with your recipe, BecR. Thank you! Randy and Cathy Myers
Cook the pork fat or bacon in a large skillet or dutch oven over low heat, stirring occasionally until it has rendered its fat, about 20 minutes for the pork fat or 10 minutes for the bacon.
Add the onion, ginger, and cinnamon stick, increase the heat to medium, and cook, stirring occasionally for about 5 minutes, until the onion has softened.
Add the cabbage, stirring and cooking over medium heat until some of the bits are slightly browned and caramelized, about 10 minutes (I do this in batches). Note: You can skip the browning step if you are in a hurry, but I find that it adds a particularly wonderful caramelized flavor to the finished dish. Now add the marjoram, garam masala, vinegar, and port or Madeira, and stir well. (Note: At this point add the optional bay leaf, whole clove, and chopped apple).
Reduce heat to medium-low, cover, and simmer for 1 to 1 1/4 hours, stirring occasionally to make sure the cabbage is not sticking to the bottom of the pan.
Remove the lid and cook, stirring frequently, for 15 minutes.
Stir in the brown sugar (or maple syrup) and cook for 15 minutes longer, or until most of the liquid has cooked away.
Remove the cinnamon stick and bay leaf before serving.
NOTE: If you can't find garam masala, use just a small dash each of ground black pepper, rock salt, cinnamon, & cardomom.