teresas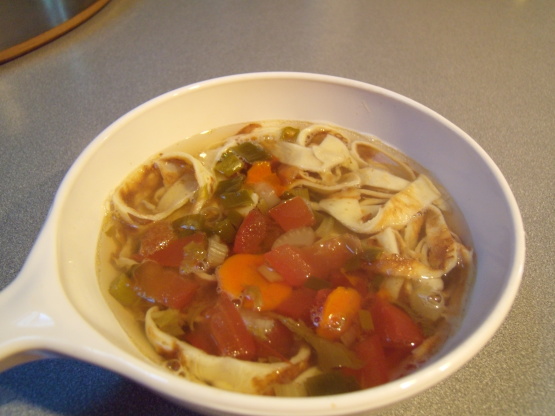 This is my MIL's recipe that she has made for years. My whole family loves it. DH even loves putting jam and a sprinkle of sugar on the pancakes. He rolls them up and will eat them for breakfast. They are like a crepe. Some people like to just put the broth over the cut pancakes others like it with the veggies.

Top Review by awalde
I prepared this delicious soup with beef and cooked it for 2 hours. After this I added the vegetables and added some fresh mushrooms I had to use as well. I prepared more pancakes (50 % more) as I wanted to have some for snack with sugar and cinnamon. I placed the soup on the table and everybody could add as much pancakes as they wanted. Everything had been enjoyed very much and we did not have leftovers at all. The beef had been served aside (I love it simply with olive oil, salt and pepper).Thanks a lot for this warming and tasty soup.
Prepare pancakes while soup is simmering.
To prepare soup put all ingredients except beef bouillon cubes into a 3 quart pot.
Pour enough water to cover about 1 inch from top.
Bring to a boil.
Lower heat to a simmer and simmer for 45 minutes.
Put in the beef bouillon cubes and salt and pepper to taste.
Cook 5 minutes longer.
Remove bay leaf and soup bone.
To prepare pancakes put all ingredients into a medium bowl and stir well.
Let stand for 15 minutes.
Heat a small amount of oil in a large skillet.
Cook pancakes flipping when top dries out.
Remove from skillet onto paper towels.
Roll up pancakes and let cool.
Cut pancakes into thin slices.
Put pancakes in bottom of soup bowl and top with soup.