teresas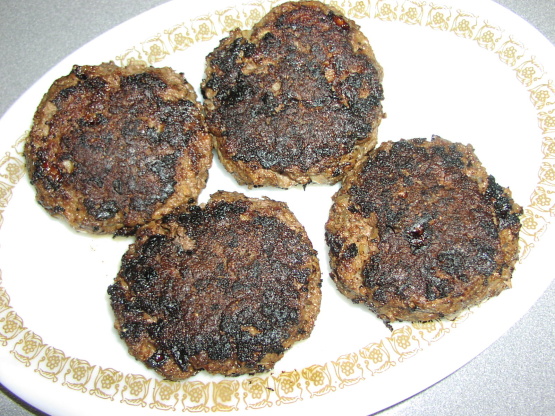 Thanks to Uncle Phaedrus, Finder of Lost Recipes at www.hungrybrowser.com/phaedrus, this recipe for the meat patties found in real German delis is here for your delight.

This is a good recipe for the meat cakes. In most of Germany we call them "Frikadellen", in Berlin they are called "Buletten" and in Bavaria" Fleischkuechle" hence the name meat cakes.The beef stock is new to me but will sure try next time I cook them. I add a good spicy mustard ( 1-2 teaspoon), that is the way my Mom and Oma made them. I am german too. Born and raised there.Lecker! ( tasty)You will also find them for sale in german pubs just like pickels here in the U.S. Arranged on a cakestand( not too tasty though cause they add less meat but more bread, cheaper that way)I guess the idea is to soake up the alkohol in once stomach :)
226.79

g ground beef

226.79

g ground veal

226.79

g ground pork (all ground together)

3

slice white bread (softened in water and squeezed dry)

1

egg

118.29

ml finely chopped onion

2.46

ml salt

2.46

ml beef stock

0.59

ml pepper

118.29

ml vegetable oil
In a large bowl, place ground meats*, softened white.
bread, beaten egg, chopped onion, salt, beef stock and pepper; mix thoroughly.
Shape mixture into flat cakes, 1/2-inch thick, using a level 1/3 cup measure and a spatula.
In an 11 to 12-inch skillet, heat vegetable oil.
Add meat cakes; brown quickly on both sides; lower heat and cook.
slowly for 15 to 20 minutes.
*Whilewe all don't have meat grinders on hand, you can alwalys"super chop" meats to tiny bits to get the ground effect if any of these meats are not available ground in your area.