German Marbled Chocolate Cake
Marz7215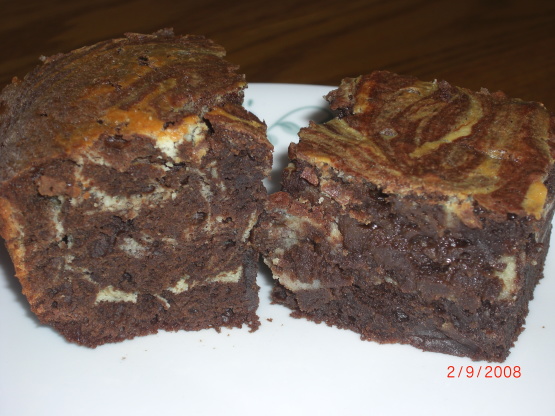 This wonderful cake tastes like a chocolate brownie mixed with vanilla cheesecake. The blending of the rich fragrant vanilla and the mellow German chocolate is perfect and creates a creamy treat that melts in your mouth. This cake is well worth the extra effort.

Made this today for my husband's birthday. It was my first time making a cake from scratch and it took me a while to put it together, but it was definitely worth it. Like a previous reviewer I also only had an 8x8 pan, so the brownie-cake was really tall and would prob have been better in 10x10, but the cheesecake and chocolate combo is still delicious. Also baked for about 1 hr 15 min. Thanks so much for posting this recipe, it is just like a cake my grandma used to make and I love it!
vanilla cheesecake

6

ounces cream cheese, softened, room temperature

4

tablespoons butter, softened, room temperature
1⁄3 cup sugar, white

2

eggs, extra large, room temperature

2

tablespoons flour, plus

2

teaspoons flour, sifted

2

teaspoons vanilla extract, pure

german chocolate cake

8

ounces German sweet chocolate, coarsely chopped
1⁄2 cup butter, cut into pieces

1

cup flour, unsifted
1⁄2 teaspoon baking powder
1⁄2 teaspoon salt

4

eggs, extra-large, room temperature
1 1⁄4 cups vanilla sugar or 1 1⁄4 cups white sugar

2

teaspoons vanilla extract, pure
icing sugar, for sprinkling (optional)
Preheat oven 350°, butter and flour a 10-inch square pan.
Cheesecake Batter: With a blender beat the cream cheese and butter in small bowl on high for 2 minutes.
Add sugar, then eggs one at a time, blending well.
Blending on low speed add the flour and then the vanilla, set aside.
Chocolate Cake Batter: Melt chocolate pieces and butter in pan over low heat; remove pan from heat, stir twice and set aside.
Sift flour, baking powder and salt.
Beat eggs with blender on medium speed for 1 minute.
Add sugar and vanilla to egg mixture.
Slowly blend in the chocolate butter mixture, beating on low until well mixed.
Add the flour to chocolate butter mixture in two additions (mixing only till all flour is absorbed).
Pour 2/3 of the chocolate batter into prepared pan.
Spoon the cream cheese batter on top of the chocolate layer.
Pour the remaining chocolate batter on top of the cream cheese layer.
Draw a table knife through all three layers of cake in gentle swirls creating a marbleized effect.
Bake in a preheated 350°F oven, on the lower-third level for 40-45 minutes, or until a tooth pick inserted in the center comes out ALMOST clean (cake should be pulling away from the edges).
Cool in pan on wire rack for 10 minutes, carefully remove and cool completely.
Sprinkle with icing sugar if desired.