German Lentil Salad (Linsensalat)
PaulaG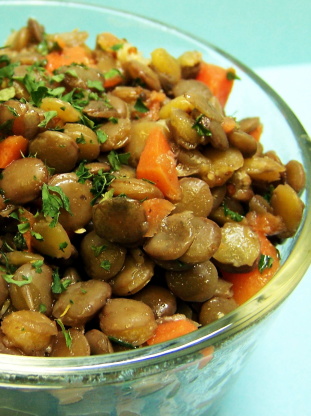 Adapted from a recipe found on the germanculture.com website, and posted for the 2006 Zaar World Tour. The recipe did not specify what sort of vinegar or mustard, so use your favourites.

Used all raw ingredients (i did cook the beans) :) and added purple cabbage. Total deliciousness.... My new favorite salad.
Cook the lentils in salted water for 20 minutes or until they are soft.
Put all the dressing ingredients into a small jar, cover with the lid, and shake until they are well-combined.
Chop the carrots into tiny cubes, and sauté the carrots and minced garlic lightly in olive oil; remove the pan from the heat and add the parsley and the lentils, and toss them with the dressing; and serve at room temperature.