lether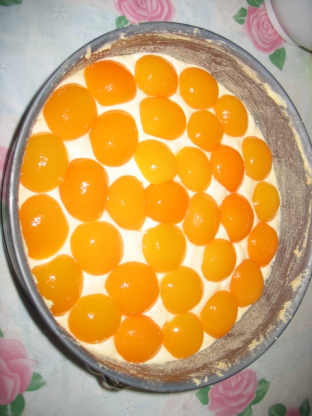 Top Review by omasue
Making the original "QUARK" for the cheese cake is very very easy ladies! I just found out a few weeks ago. I use my oval shaped insert from my crock pot to heat 1 gallon buttermilk (plus small heavy whipping cream if you want sahne quark) in oven at about 300 until it starts to separate then turn it down lower for the rest of the time. Turn oven off after 2 hours and let cool down in oven then pour slowly into a clean cheese cloth laid out in a colander then let it slowly drain overnight. I cover top with a piece of aluminum foil and place a heavy bowl on top to give it a little pressure) You then have perfect Quark left behind in the morning. Transfer in a plastic bowl and seal with lid and refrigerate until you use it. Also, if you do not want to make the quark, the best yogurt to use is greek from FAGE highest % fat is the best. Thats just my opinion and its a taste preference.
CRUST: In a large mixing bowl, blend all the ingredients, cutting in the butter and working the mixture with your hands until it is well mixed and workable.
Divide the dough into 2 equal portions.
Use one half to line the bottom of a greased 9-inch springform pan, the other half to line the sides of the pan.
Either roll out the dough or press it in with your fingers.
Chill before filling.
CHEESECAKE: Preheat the oven to 375 degrees F.
Press the cottage cheese through a sieve.
Combine the cornstarch and the baking soda and set aside.
In a large mixing bowl, combine the cottage cheese with the sugar, eggs, lemon rind and vanilla.
Beat until very smooth.
Add the dry mixture to the cheese and blend well.
Stir in the sour cream and raisins.
Pour the cheese mixture into the prepared crust and bake for one hour, or until done.
The center will remain soft.
Turn off the oven and prop the door open.
Allow the cake to cool to room temperature.
Serve at room temperature as well.