teresas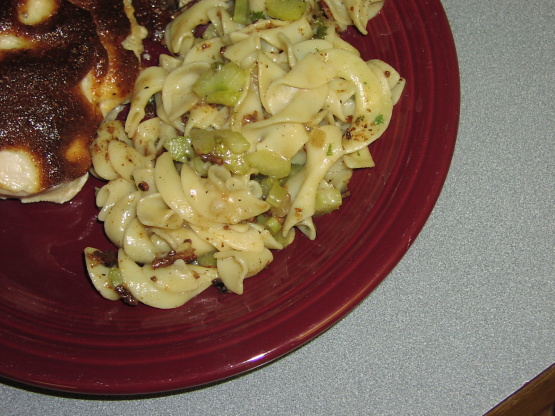 Taste of Home. This is for all the fake-German Potato Salat lovers in Zaar Land. Maybe there is a different standard for noodles :) Anyway, this fake-German stuff is really good. You guessed it, no mayo or pickles.

In viewing the recipes, I was checking the German Salads and found this one. This is the exact recipe that I tried from Taste of Home back in the June/July 1997 issue and that's how we came up with the variations for our recipe. When I dug the old recipe out, I was surprised to see it was "word for word" the same recipe. This recipe was posted by Gordon Kremer of Sacramento California and he was a runner-up in their monthly food contest. I certainly rate Gordon's recipe with 5 stars!
Cook noodles according to package directions; drain and set aside.
In a large skillet, cook the bacon until crisp; remove bacon and drain on paper towels; crumble and set aside.
Reserve 1 tablespoon of drippings in the skillet; stir/saute onion in hot drippings until tender.
Stir in sugar, flour, salt, and mustard; add water and vinegar.
Cook and stir until thickened and bubbly, about 2-3 minutes.
Add noodles to skillet.
Stir in celery and parsley; heat through.
Transfer to serving bowl; sprinkle with bacon.