Adria82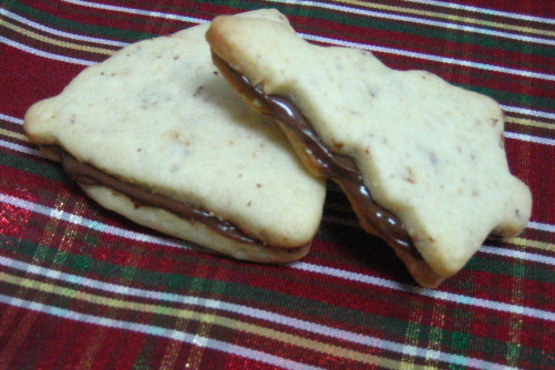 Posted by request - hope you like it! (Prep time does not include chill time.)

Thanks for the recipe, Clara - I'm always looking for new recipes to try with my daughter. And as she was born in Germany, this was perfect! I see that you're a thermomix fan. I'd love it if you posted some thermomix recipes - I'm still learning to use mine.
Cream butter and sugar with an electric mixer on medium speed until well blended.
Add egg.
Gradually stir in the flour and hazelnuts on low speed; mix until well blended.
Divide dough in half and form 2 logs.
Chill the logs, wrapped in foil, for at least 1 hour.
Cut each log into 1/4-inch thick rounds and arrange the rounds 2 inches apart on the baking sheets.
Bake at 175°C (350° F) until the edges of the cookies are golden brown, about 10-15 minutes.
Let cool completely.
Place Nutella between the two bottom sides of the cooled cookies.
Press gently till filling has spread to edge of cookies.