teresas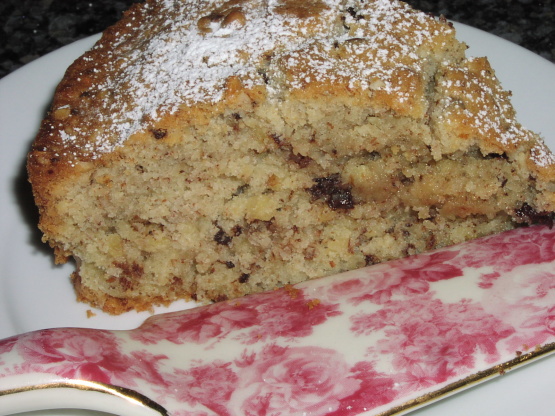 An excellent cake from Dr Oetker German Home Baking that's simple and easy to make. Hazelnut cakes are also made in Switzerland and probably other European countries. If you have a kitchen scale I would recommend using the weight measurements as they're more accurate but to make it more friendly to North American kitchens I added volume measurements in brackets. You can find bitter almond essence in German delicatessens and in some supermarkets.

Top Review by awalde
This cake came just in time. I needed some for a birthday party and one for my daughter to bring to school. My daughter got one in rectangular shape (for transport!) and she had no leftovers.
My son a round one filled with white chocolate mousse ( I photographed it before filling of coarse).
Delicious with this chocolate pieces.
Thanks a lot for posting it!
Done for ZWT7
Preheat oven to 350°F.
Mix together the sugar, eggs and flavouring and set aside.
In another bowl, cream the butter and gradually add it to the sugar mixture.
Mix the flour, baking powder and ground nuts together.
Add it to the sugar and butter mixture a spoonful at a time.
Fold in the chocolate.
Grease a 26 cm (10 1/2 ") ring baking tin and fill with the batter.
Bake in preheated oven for 50 to 65 minutes.
Test cake for doneness by piercing the middle with a wodden toothpick; if it's clean it's done.
Remove from oven and allow to stand for 5 to 10 minutes, loosen from sides of tin with knife then turn out onto a cake wire so that it can dry off.
Dust the cooled cake with icing sugar.