lazyme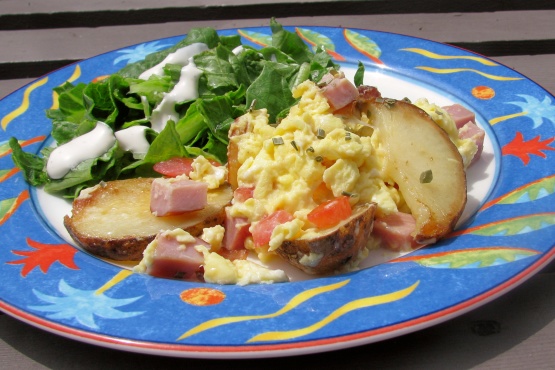 This sounds like a good, heavy breakfast my husband would love! I haven't fixed this yet, I'm submitting it for the Zaar World Tour 2006. But I'm a-thinkin' I'll be fixing it for him soon! I wonder about whether to stir this concoction near the end, the recipe doesn't say! I would just eyeball and do what I think is right for me. (Edit: This recipe has gone into my "Tried and True" file, we love it! )

Loved it! Only thing I added was lots of pepper.
Boil unpeeled potatoes until tender, drain and let cool.
Slice or dice potatoes.
In large frying pan cook bacon until translucent.
Add the potato slices, cook until lightly browned.
Meanwhile, blend eggs with milk and salt.
Stir in cubed ham.
Add tomatoes to egg mixture.
Pour the egg mixture over the potatoes in the skillet.
Cook until eggs are set.
Sprinkle with chopped chives and serve at once.