German Cucumber Salad with Sour Cream
lazyme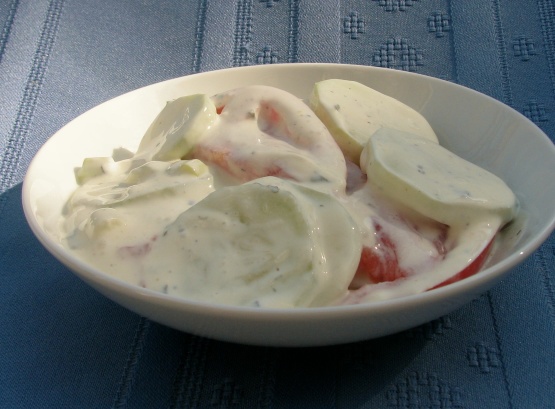 This is a very light, tasty salad, and not sweet like many cucumber salads. It's very refreshing with a tangy bite from the green onions. I used dried herbs, of course using less, and it was still very tasty. I got the recipe many years ago from a recipe board online, but do not remember the source. However, it was attributed to a man who made this for his guests at an inn he ran in Germany. I included slicing the vegetables in the approximate time.

Made exactly as per recipe - Great!!! Next time I will try it without Parsley and add a bit of dried dill. Thank!!!!
In a bowl, combine all the salad ingredients.
In another small bowl, mix together well all the dressing ingredients.
Pour over the cucumber salad mixture and toss gently.
Cover and chill for at least an hour.