German Chocolate Cheesecake
Prep 30 mins
Cook 1 hr 10 mins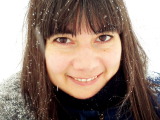 For all you who, like me, love cheesecake but aren't that great at making it, this one is for us! A cake/cheesecake combination from Taste of Home with a most delicious frosting. (I recommend making this a day or two in advance, since the flavours are definitely better after the day it's made.)
Directions
Prepare cake batter according to package directions; set aside.
In a small mixing bowl, beat cream cheese and sugar until smooth. Add eggs; beat on low speed, just until combined.
Pour half the cake batter into a greased 9x13 pan; gently pour cream cheese mixture over batter. Gently spoon remaining batter over top, spreading to edge of pan.
Bake at 325F for 70-75 minutes or until a toothpick inserted near the center comes out clean. Cool on a wire rack for 1 hour.
FROSTING: Combine sugar, milk, butter, and egg yolks in a heavy saucepan. Cook and stir over medium-low heat until thickened.
Remove from heat, stir in vanilla and fold in coconut and pecans. Cool until frosting reaches spreading consistency. Frost cooled cake.
Refrigerate leftovers.
Reviews
Most Helpful
Great recipe but I made a chocolate cheesecake filling instead just to change it up. I have made the recipe as stated so its a great way to get a cheesecake without the long wait a traditional cheescake will take to make.
Made this a day ahead of time, but was definetly better the second day. 4 stars for the cake, 5 stars for the frosting. May try again with Butter Pecan cake mix. Will make again for sure.
This recipe is really great! It really does combine the best of both worlds.