German Chocolate Cheese Pie
Rita1652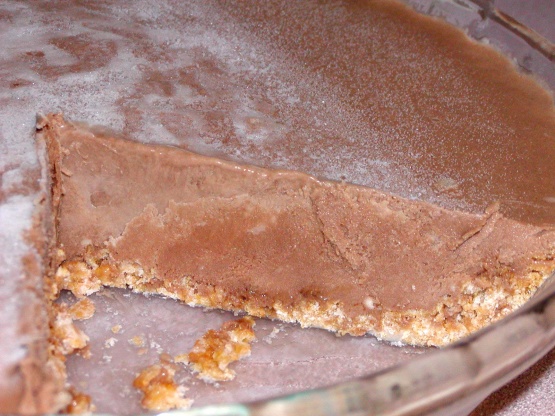 This is for the German portion of the World Tour. This is from World Famous German Recipes. Looks yummy!

This was tasty. I did feel the water was not needed. I would just melt the chocolate in a double boiler without the water. When frozen it was like a popsicle. Hard and was very hard to slice. I did heat the knife to slice. Also it can`t be at room temp to long because it melts down to a soup like consistency. But it was tasty.
Preheat oven to 300 degrees.
Butter or grease a pie plate. Mix crushed Corn Flakes, 1/4 cup brown sugar and melted butter; press into plate. Bake 10 minutes. Cool.
For filling, heat water and chocolate over low heat until melted. Stir constantly. Let cool for 10 minutes. Mix in large bowl the cream cheese and brown sugar. Add vanilla and salt.
Slowly add chocolate into cheese mixture. Mix to incorporate, by hand or with mixer. Refrigerate for 1 hour until very thick.
Whip cream into stiff peaks. Fold whipped cream into chocolate mixture and pour into crust. Freeze for 4 hours or overnight.
Can be doubled if you use a 9 x 13 inch dish.