German Chocolate Cake Squares
Bev I Am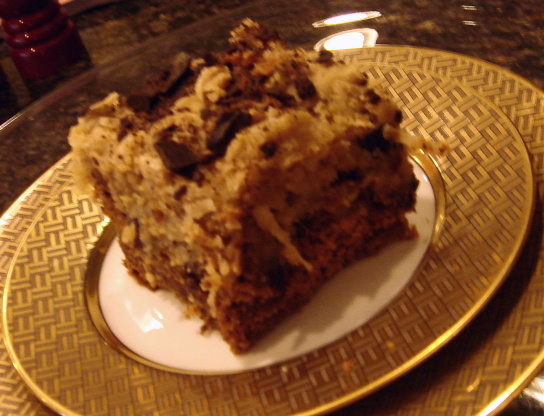 I made this cake for my husband last night, who absolutely loves German Chocolate Cake. He said this is the best cake he has ever tasted! This recipe came from the November, 1997 issue of Bon Appetit.

Top Review by Caryn
This isn't a cake for the calorie conscious but it is decadent. The cake is moist and flavorful, and of course, the traditional german chocolate frosting is wonderful. I liked the addition of chocolate chips to the top of the cake (some dropped and floated in the cake when baked) and on top of the frosting. This cake looks very pretty with all the texture to the frosting and the chocolate chips sprinkled across the top. The directions were easy to follow though I may have cooked my frosting longer than directed as I was afraid the frosting would be too thin. I can't wait until I have an opportunity to bring a cake to something as I'd imagine this cake would go over very well (and quickly too). Definetly a keeper!!
Make Cake: Preheat oven to 350°F.
Butter a 13 x 9-inch glass baking dish.
Bring water to a simmer in small saucepan.
Reduce heat to low.
Add chopped chocolate; whisk until smooth.
Cool.
Sift flour, baking powder and salt into medium bowl.
Using elelctric mixer, beat sugar and butter in large bowl until blended.
Beat in yolks one at a time.
Beat in cooled chocolate mixture and vanilla.
Beat in dry ingredients alternately with buttermilk.
Using clean, dry beaters, beat whites in another bowl until stiff but not dry.
Fold into batter in 2 additions.
Pour batter into prepared dish.
Sprinkle with chocolate chips.
Bake until tester inserted into center comes out clean, about 55-60 minutes.
Cool cake in pan on rack.
Make Frosting: Combine first 5 ingredients in heavy saucepan.
Whisk over medium-high heat until mixture simmers, thickens and leaves path on back of spoon when finger is drawn across, about 18 minutes.
Mix in coconut and pecans.
Spread warm frosting over cake.
Immediately sprinkle 1/4 cup chocolate chips over.
Let stand until frosting sets, about 2 hours.
Cut cake into squares and serve.