troyh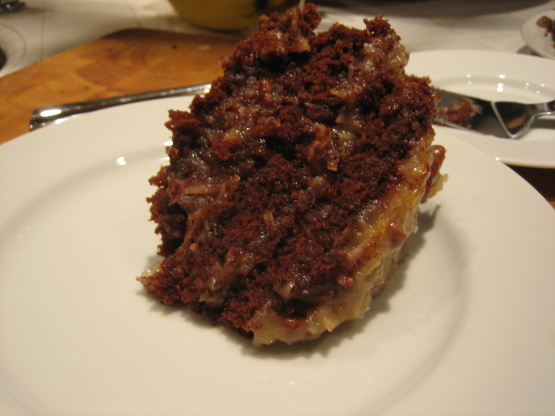 Got from nikibone.com for tour 2005 Spread coconut pecan frosting between layers and over the top of cake. Coconut Pecan Frosting Coconut Pecan Frosting German Sweet Chocolate created by Samuel German (hence its name)is a dark baking chocolate Making it more convenient for bakers to have a chocolate where the sugar was already added to it. It is sweeter than semi-sweet chocolate and contains a blend of chocolate liquor, sugar, cocoa butter, flavorings, and lecithin.

This is the second year I've made this cake for my husband's birthday and it is delicious! German chocolate cake is his favorite and it just doesn't get better then this one. The cake layers just turn out perfectly, and the recipe is easy to follow. Thanks for sharing! It is one of our family favorites.
Preheat oven to 350°F.
Line the bottoms of three 9 inch round cake pans with wax paper.
Microwave the chocolate and water in a large bowl on high for 1 1/2 to 2 minutes or until chocolate is almost melted, stirring halfway through heating time. Stir until chocolate is completely melted.
Sift together flour, baking soda and salt; set aside.
Beat butter and sugar in a large bowl with an electric mixer on medium speed until light and fluffy.
Add egg yolks, one at a time, beating well after each addition.
Stir in chocolate mixture and vanilla.
Add flour mixture alternately with buttermilk, beating after each addition until smooth.
Beat egg whites in another bowl with electric mixer on high speed until stiff peaks for.
Do not over beat. Gently stir into batter. Do not over mix.
Pour into prepared cake pans.
Bake 30 minutes or until cake springs back when lightly touched in the center. Immediately run spatula between cakes and sides of pans. Cool 15 minutes. Remove from pans; remove wax paper.
Cool completely on wire racks.
Spread coconut pecan frosting between layers and over the top of cake.
TAKE NOTE- Substitution for 4 ounce of German sweet chocolate: - 4 ounce bittersweet or semisweet chocolate plus 2 tablespoons granulated white sugar.