German Chocolate Bunt Cake
rpgaymer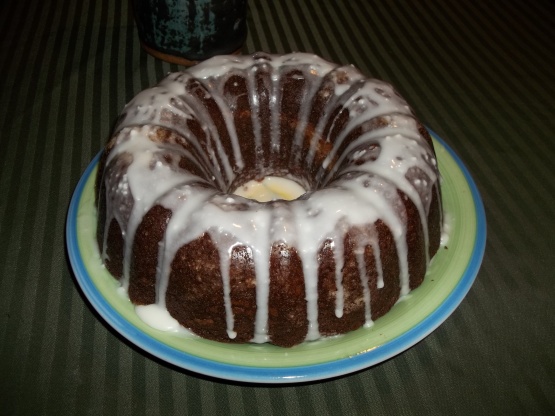 This is a Cooking Light recipe originally but no one would know it when tasting this delicious chocolaty cake...with a slight twist. The streusel is on the inside!
This turned out to be a great cake for Valentines Day. I loved the filling! It was a nice change of pace to stick the streusel inside instead of smothering it all over the cake. Even though this is a "healthy" cake, it still tastes quite indulgent. [Made and reviewed for PLEASE REVIEW MY RECIPE]
Preheat oven to 325°.
To prepare streusel, lightly spoon 1/4 cup flour into a dry measuring cup; level with a knife. Combine 1/4 cup flour and brown sugar in a small bowl; cut in 2 tablespoons butter with a pastry blender or 2 knives until mixture resembles coarse meal. Stir in coconut and pecans.
To prepare cake, coat a 12-cup Bundt pan with cooking spray; sprinkle with 1 tablespoon granulated sugar. Set aside. Combine cocoa and baking chocolate in a small bowl; add boiling water, stirring until chocolate melts. Set aside.
Combine 1 1/2 cups granulated sugar and 1/3 cup butter at medium speed of a mixer until well-blended (about 5 minutes). Add vanilla and egg whites, 1 at a time, beating well after each addition. Lightly spoon 2 cups flour into dry measuring cups; level with a knife. Combine 2 cups flour, baking powder, baking soda, and salt, stirring well with a whisk. Add flour mixture to sugar mixture alternately with buttermilk, beginning and ending with flour mixture. Stir in cocoa mixture. Spoon half of batter into prepared pan; top with streusel. Spoon remaining batter over streusel. Bake at 325° for 1 hour or until a wooden pick inserted in center comes out clean. Cool in pan on a wire rack 10 minutes; remove from pan. Cool completely.
To prepare glaze; combine powdered sugar and butter in a small bowl. Add milk; stir with a whisk. Drizzle over cake.