PaulaG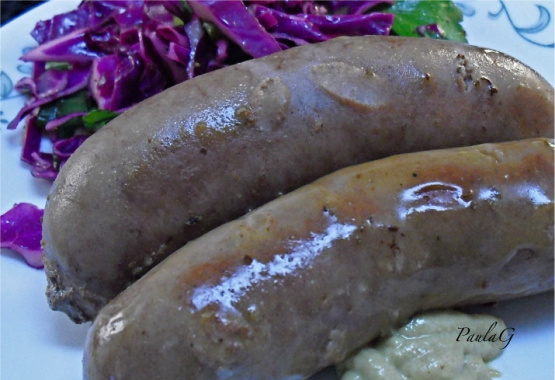 The tangy mustard and brown sugar makes this quick and easy bratwurst recipe worth trying.

Top Review by Ackman
Made this for supper tonite. It was tasty & good for something different. I didn't have enough bacon drippings leftover, so I added a little canola oil. After thickening the sauce a bit, I put the brats in, covered the pan & simmered them in the sauce on medium-low for about 10 minutes. THANKS for sharing!!!
In a large skillet, cook bacon over medium heat until crisp.
Using a slotted spoon, remove the bacon to paper towels, (save bacon for another use, then drain reserving 4 tablespoons of the bacon drippings.
In the drippings, cook bratwurst for 10-15 minutes or until no longer pink.
Remove, and keep warm, and drain skillet.
In a bowl, combine cornstarch, and broth until smooth, set aside.
Add mustard, brown sugar, wine, vinegar, and celery seed to skillet.
Cook and stir over medium heat until mixture is hot, and bubbly.
Gradually add cornstarch mixture, and bring to a boil, cook and stir for 2 minutes or until thickened.
Return bratwurst to pan, cook and stir for 1-2 minutes or until glazed.