CoffeeB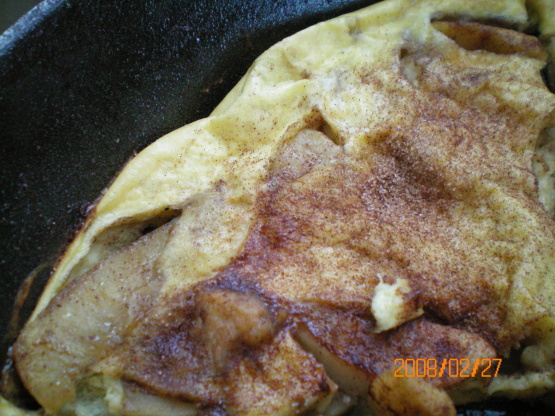 While not authentic, this is a wonderful & easy recipe for a baked apple pancake.

This was fabulous in taste Susie. It reminded me more of french toast than pancake's because of the sweetness. DH put maple syrup over his even though I thought it was fine w/o any type of topping. Added a bit of nutmeg to the sprinkling over top. Made only two servings..Glad I tagged for 123 HitWonders 08~
Preheat oven to 450º.
Melt butter in a 9 or 10 inch skillet with an ovenproof handle (cast iron works great).
Arrange apple slices in a single layer over butter.
Combine 2 tablespoons brown sugar with the cinnamon & sprinkle over the apples.
Cook over medium heat, stirring gently, until apples are slightly tender ( 5-6 minutes).
Beat eggs, milk, flour & salt till smooth; pour over apple mixture.
Bake for 8 minutes; remove from oven.
Lower temp to 375º.
Sprinkle remaining 2 tablespoons brown sugar over pancake.
Return to oven & bake till evenly browned; 8-10 minutes.
Loosen pancake around the edges & cut into wedges.