Bev I Am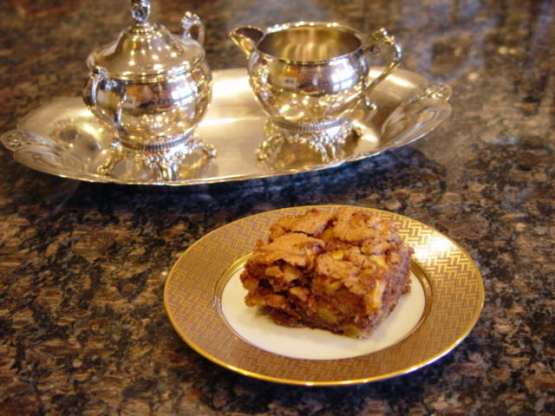 This moist flavorful cake is an old standby for potlucks and picnics. My sister gave me the recipe after she got tired of making it for me so often.

I thought this cake was wonderful! It was so simple to make. As others have said, the most difficult part is peeling the apples. After that, it takes 5 minutes to prepare everything. Also as others have said, the dough was incredibly thick and difficult to stir prior to the addition of the apples. I only added 1 cup of sugar instead of the instructed 2 cups and I thought the cake was the perfect amount of sweetness. The only other change I made was that I baked the cake for only about 40 minutes, as opposed to the recommended 50-55 minutes. When I checked on the cake it looked golden brown so I took it out and it was perfectly moist. I highly recommend this recipe!
In large bowl, beat eggs and oil until smooth.
Add next 6 ingredients and mix well.
Fold in apples.
Pour into greased 9 by 13 pan.
Bake at 350F degrees for 50-55 minutes.