Geraldine: a Cranberry Orange Sour Cream Coffee Cake
Mark B.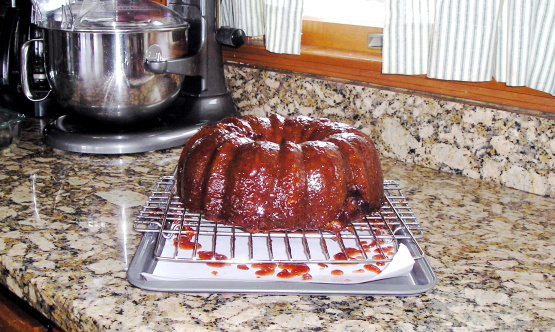 For Immediate Release "Lights, Cameras.......Action"......... My "inspiration", Geraldine the self professed "cookie maven" who knighted me "The Cookie Doctor", has agreed to go public. And she has requested that I name a "piece" in her honor. Well, needless to say, I immediately agreed that this request should be honored ASAP, but then wasn't quite sure what piece I should grace with her name. At first, I thought it only befitting that I choose one of my "signature" cookies for this honor. But suddenly it dawned on me that the wonderful coffee cake I was actually making as we spoke, would indeed be the perfect choice. (People always call when I start my mixer!) This cake has "royalty" written all over it. It is a lovely, rich sour cream coffee cake that highlights cranberry and orange, is enrobed with strawberry preserves and delicately crowned with almond icing. It also shares some of the same ingredients that comprise one of my favorite cookies, so this honor is very fitting indeed. Well folks, without further ado....... I am honored to present to you my First "Signature" Piece....."Geraldine"
Preparation:.
Preheat oven to 350'. Butter and flour a 10 inch bundt or tube pan. In the bowl of a stand mixer with the paddle attachment, cream together the butter and sugar. Add eggs, one at at a time, and beat at medium speed for 2 minutes. Add extract and zest, mix to incorporate. Sift together the flour, baking soda, baking powder and salt in a medium bowl. Add half of the flour mixture to the butter mixture with half of the sour cream and mix well. Repeat with the remaining flour mixture and sour cream and mix until incorporated. Do NOT overmix. Dough will be somewhat sponge like in consistency. Spread approximately 1/3 of the batter into the pan and top with 1/3 of the cranberry sauce. Be careful to spread cranberry sauce into middle of the pan, avoiding contact with sides and center of pan. It might make cake removal difficult. Repeat twice more. Bake cake for 65-70 minutes, or until cake tested inserted into center comes out clean.
While cake is baking, heat preserves in pyrex measuring cup in microwave oven until bubbling, approximately 2-1/2 minutes on high. Add almond extract and mix thoroughly. Set aside.
When cake is done, cool in pan for 20 minutes. Reheat strawberry almond glaze till very hot and viscous. Line a large baking sheet with wax paper or freezer wrap. Remove cake from pan and place on wire rack. Place on top of covered baking sheet. Brush on hot glaze and cover cake completely. Use all of the glaze to ensure cake is thoroughly enrobbed. Let cake cool 5-6 hours.
Combine icing ingredients, mix until desired consistency and drizzle over cake in a decorative fashion. Let cake rest at least 1 hour before serving.