Prep 10 mins
Cook 55 mins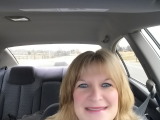 Being a "Georgia Peach" myself, I had to submit this recipe. It is so delicious and very refreshing. Try it---no way you won't like it.
Directions
Cream sugar and shortening together.
Add eggs and mix thoroughly.
Add peach puree and dry ingredients.
Mix thoroughly.
Add vanilla and chopped pecans and stir until blended.
Pour into 2 loaf pans (about 5x9 inches) that have been well greased and floured.
Bake at 325 for 55 minutes to 1 hour.
Let bread cool for a few minutes before removing from pan.
Reviews
Most Helpful
I'm sorry to say that I did not like this at all. I love peaches but it tasted odd to me. I also cooked it for longer than stated and it still tasted doughy.

I used can peaches since the recipe didn't specify and I think I probably should have used fresh peaches because you could barely taste the peach in the bread and I think fresh ones would have been more flavorful. Actually the bread tasted nothing like peaches and I had to cook it a lot longer than the recipee said. Still after the extra time it came out tasting doughy and undercooked. However, I am still giving the recipee a 3 because it did have a good overall taste.