George Foreman Grilled Tandoori Chicken
This is incredibly easy to make, just throw the marinade together early in the day, and then grill for a few minutes when you get home in the evening.
Directions
1. Mix together all of the marinade ingredients in a bowl.
2. Cover chicken with the marinade, and store in the refrigerator for 1-8 hours.
3. Grill chicken and serve. (I use the George Foreman grill).
Most Helpful
This was great! I made the marinade in the morning, then left it until dinner time. Lovely flavour - made it in my griddle pan as I couldn't find the George Foreman (in the shed I've since been told?!!!) - served it with some spiced cous cous and it went down a storm. My new favourite tandoori chicken!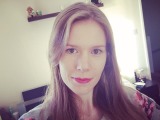 Juicy and Flavorful. I had this with some brown rice and roasted cauliflower

Excellent recipe. Easy to prepare. Everyone enjoyed the meal.