diner524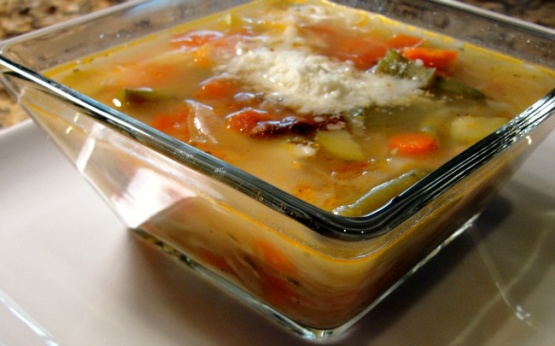 Good Food Magazine, October 1986. Prep time does not include 1 hour of soaking time for beans.
Wonderful minestrone soup!!! I always say that bacon makes everything better and never would have thought to use it to make minestrone soup, but it is perfect!!! I originally thought I would use veggie, chicken or beef broth instead of the water, but decided to wait and try it with just the flavoring from the bacon and bacon fat, good decision!! I made a few minor changes, based on what I had on hand and DS's favorites. I used small bow-tie pasta, a can of Navy Beans and then added a can of cut green beans so DS would eat some of the soup. Followed the rest as written, other then adding more salt, pepper and then added some garlic salt for our tastes. Really love the freshness and flavor of this soup. Thanks for sharing the recipe. Made for Newest Tag Game.
1⁄4 cup dried navy beans (or other small white beans)

2

slices bacon, cut into 1/4-inch dice

2

tablespoons extra virgin olive oil

2

garlic cloves, finely chopped
1⁄4 cup chopped fresh parsley

1

medium onion, chopped

3

quarts water

3

carrots, pared, cut into 1/2-inch dice

3

medium zucchini, quartered lengthwise, sliced

4

ripe medium tomatoes, peeled, seeded, cut into 1/2-inch dice

1

teaspoon salt
1⁄4 teaspoon fresh ground pepper
1⁄2 small head savoy cabbage, shredded (about 3 cups)

1

cup small shell pasta
1⁄2 cup freshly grated parmesan cheese
1⁄4 cup chopped fresh basil
Soak beans in at least 1 inch of water in small saucepan overnight (or boil for 1 minute, remove from heat, and let stand covered 1 hour).
Cook bacon in large pot over medium heat. Remove all but 2 T. of the fat; leave bacon in pot. Add oil and heat over medium heat. Add garlic and parsley; saute until lightly colored, about 2 minutes. Add onion and saute 1 minute. Add 3 quarts water, the carrots, zucchini, tomatoes, and drained navy beans. Season with salt and pepper. Heat to boiling. Reduce heat and simmer uncovered 1 to 1-1/2 hours.
Add cabbage and simmer 20 minutes. Add pasta and simmer until tender, about 10 minutes.
Taste and adjust seasonings. Ladle soup into wide bowls. Sprinkle with Parmesan and basil.