9BallGuy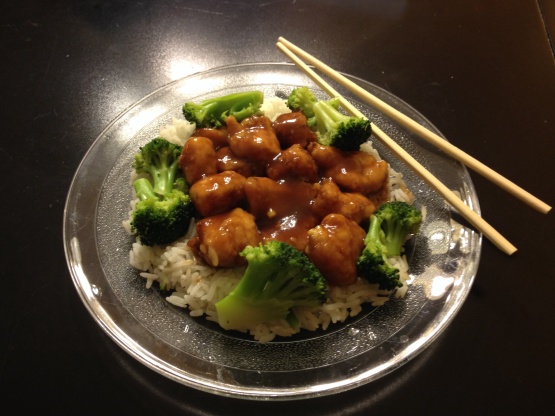 So, I decided to tweak my usual General Tso's, but mainly I changed a few things around because I didn't have everything that I usually use. I the course of making it, I used Heinz Malt Vinegar, which is a Pittsburgh Favorite, hence "Yinzer" in the name. It has a tangy yet sweet flavor with the malt vinegar coming through with every bite. I serve it over rice with broccoli. Mmmmmmm.
Combine all ingredients in saucepan EXCEPT water and corn starch and heat over Med High, stirring to mix.
In measuring cup, thoroughly mix the cold water with the cornstarch.
After the mixture in the saucepan starts to bubble, SLOWLY whisk in cornstarch mix until completely mixed.
Once sauce starts to thicken, remove from heat, and stir to ensure uniform texture.
Fill a large pot or skillet to 1.5" with Vegetable oil.
Heat oil to 375°.
Cut the chicken into 1-1.5" pieces and then place in bowl of milk.
Once oil is hot and chicken has soaked for 5 minutes, use a fork to take chicken and dip to coat it with cornstarch.
Drop in oil and cook until chicken is done (hardened and slightly browned), about 2 minutes. If unsure, break a piece open and check for doneness and adjust time accordingly.
Once all chicken is cooked, put in a large bowl and pour sauce over the chicken and toss to coat thoroughly.
Serve over rice, and even add broccoli if so inclined.
Enjoy!