breezermom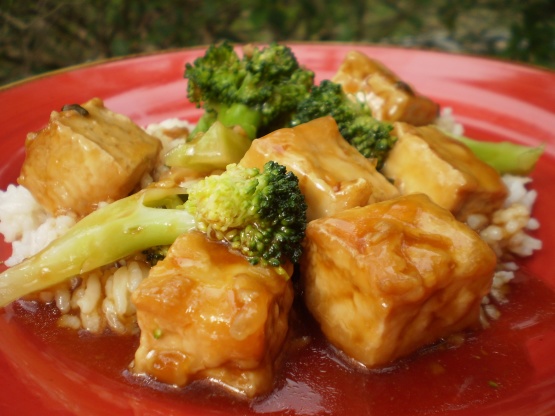 Great alternative to General Tso's Chicken. Contributed to a vegetarian website by Sarah Booth.

I am not much of a tofu lover so I decided to try this with A couple of modificatitions. I made the sauce and marinated the tofu in it before breading it with the egg and cornstarch.( for a couple of hours.) Then I baked the tofu in a 325 oven for approximatley 30 min. so that it was crispy and then I used the "marinade" plus made an extra batch of sauce and proceded with the rest of the recipie. I must say it was YUMMY YUMMY. I had it with stirfried broccoli, baby corn, snowpeas and rice. The tofu had better flavour by marinating first and you can eliminate a lot of the oil by baking it instead of frying.
Drain, dry and cut tofu into one inch chunks-You can freeze the tofu the night before to get a more"chicken-like" texture, if desired.
Mix egg with 3 Tbs of water.
Dip tofu in mixture.
Sprinkle cornstarch over tofu to completely cover.
Heat oil in pan and fry tofu pieces until golden brown and set aside.
Drain oil.
Heat 3 Tbs vegetable oil in pan on medium heat and add onions, ginger and garlic, cook for about two minutes (be careful not to burn garlic).
Add vegetable stock, soy sauce, sugar, red pepper flakes and vinegar.
Mix 2 Tbs of water and 1 Tbs cornstarch and pour into mixture, stirring well.
Add fried tofu and coat evenly.
Serve immediately with steamed broccoli over your choice of rice.