Catnip46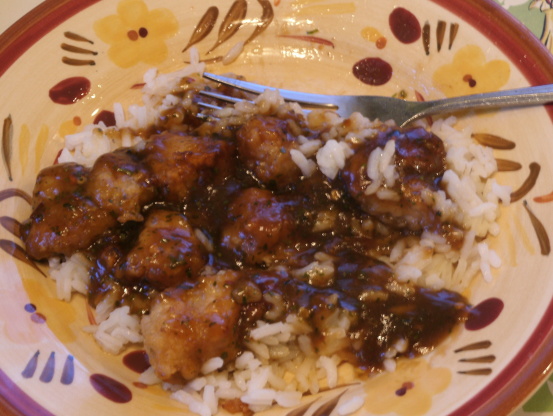 This is perfect for those nights you need a quick dinner or when you have the desire for yummy chinese (minus the grease!) I serve this over a bed of basmati rice and steamed broccoli. So far everyone who has eaten this meal has told me that I MUST blog it so ta-da! I hope you and your family enjoy as much as me and mine do. For more yummy recipes be sure to check out my blog: http://organicfitandhealthy.blogspot.com

The coating for the chicken was really good. I could see making chicken nuggets with this coating. I'm only giving this a 4 star rating because the General Tso's sauce came from a premix package(which was very good BTW) instead of home made. Made for Pick a Chef Preemie book 4.
Take chicken breast and cut into halve length wise.
Cut the halves into one inch "cubes" (they don't come out cuboidal in shape but chunks, this is perfect).
In a medium bowl mix egg whites, soy sauce, 1 tablespoon of each onion powder, garlic powder, salt and pepper.
Add chicken pieces to egg white mixture and allow to marinade for at least 15 minutes, this process is called velveting, it is an asian technique that although I myself found odd, really does allow for the chicken to maintain its moisture during the cooking process.
In another bowl mix flour, paprika and remainder of spices.
Place marinaded chicken pieces into flour mixture, ensuring pieces are completely dredged.
In a medium sauce pan heat canola oil until hot.
Once oil is ready drop dredged chicken pieces allowing to crisp and turn light golden brown, flip and cook other side until lightly golden brown.
Once chicken is cooked, I remove from frying pan and place on a cookie sheet that has been lined with paper towel to absorb the excess oil, by giving the cooked pieces enough space to not over lap you will maintain the crispness and not feel the guilt of eating something fried.
In a small pot heat Trader Joe's General Tso's sauce until it simmers, remove from heat.
Your ready to plate and serve! I serve this with a mound of basmati rice in the middle of the plate, place the chicken on top and surround the mound of rice with steamed broccoli and drizzle about 1/6 cup of sauce over the entire dish and then sprinkle sesame seeds throughout. It looks fresh, clean and restaurant quality! Enjoy!