General Mapache Chicken Surprise
nitko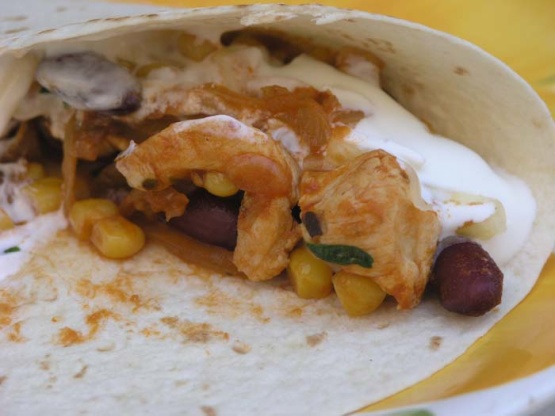 This dish was first made in 1999. during my summer holidays. That summer was very hot, so hot one would not go out of the house at all; even the sea was warm, too warm to refresh. I had just some groceries I could not do anything as complete meal. I just had some of everything. And than, General Mapahche, a character from one of my favorite movies "The Wild Bunch" by Sam Peckinpah, came to my mind. He is a very mean soldier, general, very demanding, it seemed like a challenge to make him a meal; so this dish must be good, otherwise, you are going down.

We very much enjoyed this, easily put together, the only work is in the prep. I didn't add tomatoes or red beans, but otherwise followed the recipe. Another time I would serve it over rice or pasta, but this time served it with baby roast potatoes and roast pumpkin, for a very good meal! made for PAC Fall 2008, thanks, Nitko!
Cut boneless and skinless chicken breasts into stripes (bones and skin use for cooking broth). Chicken stripes season with salt and soak into lemon juice. Leave it 1 hour in lemon.
In the meantime cut onion into rounds; mince finely garlic; cut bell peppers into stripes; cut tomato into small pieces (remove seeds), cut zucchini into stripes.
Wash canned corn and beans well to remove "can taste".
Heat olive oil in a frying pan (big one) and fry chicken until gets brown.
Put chicken aside, add some more oil and add vegetables following this order: first onion, sauté until softens; than peppers, sauté a bit, than tomato and garlic. Than add chicken, thyme, oregano, salt, pepper and chili. Add some broth and sauté until everything softens. Add corn and beans and stir. Add zucchini last (they get soft quickly).
Sauté everything for 5-10 minutes or more: all liquid must evaporate and sauce must be sticky.